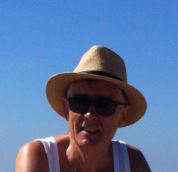 I was born in 1955, in the Lyon region, father of two adults, grandfather of a little girl. I was an IT manager in the division of a large industrial group in which I made my entire career.
I arrived in the Aude region in September 2014, I feel well in this area. Sea and mountain are less than two hours away. I like skiing, trekking, mountain biking, swimming in the sea or in lakes. I like going to the movies, theatre, and the opera. I like reading and listening to music. I play the guitar. I am interested in genealogy. I practice Qi Gong. I like DIY I would like to start an organic garden in permaculture.
After having been around the world I would like to live close to nature, away from pollution and noise, in a place where sharing and caring are paramount, sharing knowledge and experience. I am motivated to change my life, I do not want to grow old alone and isolated, but I also need some private time doing things for myself unconstrained.